Angie Wise, BSN RN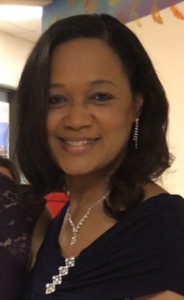 The Importance of Black Nurses in the Nursing Field
Here we are, in the year 2020, and I feel black nurses hold a very high level of importance in the health care field today. Our society is well diversified, we are seeing a wide variety of patients across the spectrum, and African American nurses are poised in a unique position to address many of the issues and concerns that face our nation today.
My personal story began back in the early 1970s in New York City. My earliest memories of nursing came from my mother, my inspiration, my biggest supporter, and a nurse with over 20 years of experience as a dialysis nurse at Elmhurst Hospital. I recall how she would often take me up to her unit, and I would sit with her and the other nurses in the staff break room and at the nurse's station. I loved hearing the chatter and experiencing the excitement of the nurses and staff. I always knew I wanted to have a career in health care, and initially, I wanted to be either a pediatrician or OBGYN. After much thought, maturing, and life lessons, I am so glad that I decided to take up nursing. It's the nurse at the bedside who spends much more time with the patient, teaching them, allaying their fears, and sharing their tears and triumphs and sadness. I wouldn't have it any other way. I love being present with families at this very special time of their lives, welcoming a new baby. It's an honor and experience that no words can truly fully explain. Being an African American nurse, I represent a select group of minorities. I hold myself to a higher standard, as most nurses today, sadly, remain white. I am also inspired by Mary Elizabeth Mahoney, the first African American nurse who graduated in 1879 and founder of the National Association of Colored Graduate Nurses, and others who have followed such as Hazel W. Johnson Brown, Sojourner Truth, Goldie D. Brangman of Harlem Hospital, and Betty Smith Williams, just to name a few. These women have paved the way for me and all women of color and proved that big dreams and hard work can accomplish much!
As a member of AWHONN for four years, I have held several positions that I believe has allowed me to serve and be an example for other African American nurses: Chapter Leader of North Texas Chapter since 2016, Emerging Leader 2019, Poster Chair for Texas State Conferences 2018 and 2019, and Member Recruitment for Texas Conference 2020. I am also the Texas State Coordinator for the Institute for Perinatal Quality Improvement, an organization dedicated to the health, welfare, and education of mothers and babies by improving outcomes. It is my sincere desire to be an example to other black nurses, in particular, black nursing students. I want to show that it is imperative to have a voice, be extraordinary, and, in the words of my mentor Jessica McNeil, "own your brilliance" as an African American nurse! I desire to show that your skin color should never be a deterrent or roadblock to conquering your aspirations and dreams!
Lastly, there is never enough that can be said and done in light of the staggering statistics that African Americans are dying at a higher rate in childbirth than any other group. While this deeply saddens me, at the same time, it motivates me to continue, as my patients are in danger of not receiving the same adequate care as white women. As a black nurse, I identify with my African American patients. I advocate for their voices to be heard, their choices clearly defined, and options fully explained. I maintain the mentality of "not on my watch!" I will forever owe it to those who have trailblazed the path before me and those that will come up after me to do justice to the profession of nursing always and to be both humbled and proud to be an African American nurse in 2020!