Jessica McNeil, MSN, RNC-OB, C-EFM
AWHONN Member since 2009
FEATURED IN THE OCTOBER 2018 AWHONN EXPRESS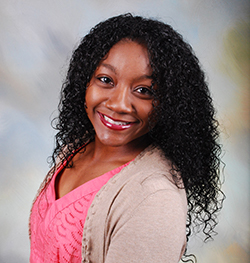 From the moment I decided to become a nurse, I knew I wanted to work in Women's Health.  While I was in nursing school, I had an instructor that fostered my love for women and children's health and encouraged me to join AWHONN as a student.  Being an AWHONN member helped me as a new nurse prepare for clinical practice and equipped me with the latest knowledge and evidenced-based practice.  While working as a staff nurse in labor & delivery, I was given the opportunity to attend the national AWHONN Convention in 2013.
At convention, I was able to meet other nurses from around the state of Texas, and they assisted me in getting more involved with AWHONN at the local level.  These interactions lead to me becoming the chair of my local AWHONN chapter.  At the 2013 AWHONN convention, I was also able to meet nurses and nurse leaders from other states, and elevate my knowledge and understanding through innovative and informative conference sessions.
After attending a session on fetal heart monitoring, I quickly realized that consistent fetal monitoring training was a gap missing at my organization. When I brought this information back to my hospital, they supported me in addition to a few of my colleagues in hosting and attending a fetal monitoring instructor-training course in order for us to become instructors.  It was at this course that I learned about the AWHONN Emerging Leader program. While I had doubts that someone that was "just a staff nurse" like me would qualify for the program, the instructor trainer not only encouraged me to never again think of myself as "just a nurse;" but also to take a chance and apply.  I am so very thankful she encouraged me in this way.
In 2015, I had the great honor of being selected for the AWHONN Emerging Leader Program. While I was thrilled to be a part of this amazing opportunity, I had no idea the profound impact this program would have on me
both personally and professionally.  The Emerging Leader Program taught me about myself as a learner, equipped me with the tools so that I can relate to my peers efficiently, and prepared me to successfully transition into formal leadership roles.
Through the Emerging Leader program, I was given the opportunity to play a direct role in advocating for legislation to improve the health and care of women and children throughout the country by participating in "Leaders on the Hill." Most importantly, the Emerging Leader program allowed me to meet and connect with other nurses from around the country.
Although myself and the other participants all came from different areas, had different backgrounds,
and worked in different roles, we shared a common passion for impacting the health of women and children.  We were all at different stages in our leadership journey, and that allowed us to bring different perspectives to the table.  These individuals became more than just my fellow program participants: they became my AWHONN family.  Since completing the program, we have all kept in touch, frequently sharing ideas and advice, and always look forward to seeing one another at AWHONN conferences.  We cheer on each other's accomplishments, encourage each other through difficult trials, and inspire one another to keep growing and moving forward.
Participating in the Emerging Leader program has been, thus far, the greatest honor of my professional nursing career.  Due to the tools that I gained from the program and the people that I was blessed to meet, I am a better nurse and patient advocate as well as a better leader.  Since completing the Emerging Leaders program, I have worked as a nurse manager, perinatal educator, and adjunct clinical faculty member.  I have also started the journey of obtaining my DNP as a Certified Nurse Midwife. I have also had the opportunity to serve on a national AWHONN committee.  In each of these roles, I utilize the skills that I learned in the Emerging Leaders program daily.
When I completed nursing school, I never imagined that I could or would be a nurse leader one day.  Not only did the Emerging Leader program give me the knowledge to step into leadership, but also gave me the confidence.  I am forever grateful to AWHONN for the resources, tools and opportunities they have provided me, for their continued belief in the development of nurses, and for their commitment to improving the care of women and children.