Patsy A. Kennedy, WHNP-C, BSN
AWHONN Member since 1976
FEATURED IN THE MAY 2018 AWHONN EXPRESS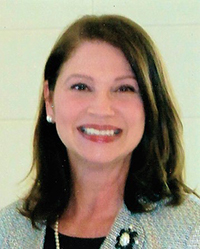 Patsy A. Kennedy, WHNP-C, BSN has been a member of AWHONN since 1976 and was an active participant in Chapter, Section, District, and National activities.  Patsy served on AWHONN's Board of Directors, first as 1995 Secretary and Membership Committee Chair and then as the 1998 President.
Kennedy states her earliest recollection of AWHONN had to do with her initial introduction to AWHONN and the membership application process.  "In 1976, as the mom of an 18 month old baby, trying to re-enter the work force at an OB/GYN multi-practice office after an extended maternity leave from a hospital setting, I was amazed when my recently acquainted co-workers (AWHONN members), demonstrated  unsolicited solidarity and generosity. The four nurses persuaded  the physicians to include me, the new nurse for paid membership and attendance to a joint ACOG/NAACOG District Conference being held  in Mobile, AL (yes, it was a typical benefit provided by physician practices  during that time, but usually did not include part-time employees)."
"Their act of kindness was not without some sacrifice. In order to cover the office practice, each of the nurses chose to give up some of their conference attendance to accommodate my attendance. I knew I had found my professional organization home. I am sure there are many similar stories of encouragement and support afforded to others by AWHONN members."
Kennedy retired in 2014 after 30 plus years of employment with the University of South Alabama (USA), Mobile, AL. From 2007 to 2014, Patsy served as Manager, Staff Development and Employee Health for the University Health Services Foundation Administration. Prior to the move to Administration, Patsy worked as the Manager of Clinical Operations for the USA Department of OB/GYN beginning in 1982 up to 2007. During that same period of time, she participated in clinical practice as a WHNP in the Faculty Offices of the Dept. OB/GYN and in the USA Student Health Services.
Currently, Kennedy is serving her second three year term as Chair of the University of South Alabama College of Nursing Development Council, Mobile, AL. The council's primary purpose is to enhance community awareness and increase funding sources for nursing scholarships.