During their time with you, your patients and families face one of the most emotional experiences of their lives, and they look to you to assure them that their health and safety are your top priorities. No matter where you are in your career, you know you can always rely on time-tested, best practices to make deeper connections at the bedside, establish trusted partnerships with moms and partners, and deliver successful outcomes.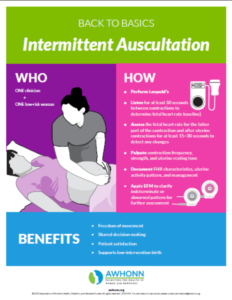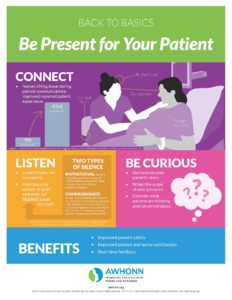 Using This Tool
This resource is available for download and can be used in orientation packets when onboarding new hires and prominently display in the following areas:
Nurse's station
Staff restroom
Staff conference room
Looking for more ideas about how you can reproduce this tool and implement and share this with your team? Check out our recommendations on how to make the most of this resource.
Intermittent Auscultation 8.5 x 11 Poster
Download the PDF
Be Present 8.5 x 11 Poster
Download the PDF
Be Present 11 x 17 Poster
Download the PDF
Be Present 16 x 20 Poster
Download the PDF